Medical Device Startup Blink Device Company Announces 510(k) Clearance of TwitchView Quantitative Monitor for Neuromuscular Blockade and Hires VP of Sales and Marketing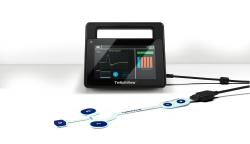 Seattle, WA, April 26, 2018 –(PR.com)– Blink Device Company, a recently formed medical device company helmed by industry veterans, aims to support clinicians with practical, cutting-edge technologies and never-before-seen reliability. Their recently 510(k) cleared product, TwitchView, is an objective monitor for neuromuscular blockade, and the first standalone EMG (electromyographic) based monitor in the US. As published by leading anesthesia organizations like APSF and ASA, EMG is the gold standard for monitoring neuromuscular blockade, and a device of this caliber is long overdue.
To spearhead commercialization of TwitchView, Blink Device Company recruited Elise Hyman, a former Director at GE Healthcare specializing in perioperative care, as Blink's VP of Marketing and Sales.
"Monitors for neuromuscular blockade must be simple, reliable, and accurate," states Hyman. "It is evident that these principles were top of mind when developing TwitchView, a device that streamlines clinical practice and remedies well-documented clinician concerns with currently available products. Having worked for an industry giant, I was privileged to meet innovators worldwide, but Blink stood out. I am truly excited to join this team and introduce this product to the healthcare community."
Hyman views quantitative monitoring as a vital addition to modern anesthesia management, and affirms that the TwitchView stands alone amongst train of four (ToF) monitors. Worldwide, healthcare practices are migrating towards standardized use of objective monitors for neuromuscular blockade. With TwitchView, Blink Device Company is poised and ready to meet demand.
"TwitchView is the first of many outcome-enhancing, clinician-friendly products to come," says Justin Hulvershorn, MD, PhD, Blink's CEO and one of the inventors of TwitchView.
Blink Device Company is redefining ease-of-use, dependability and accuracy within the medical device industry. Their first product, TwitchView, is a quantitative (objective) monitor for neuromuscular blockade that functions accurately regardless of patient positioning and demographic. An elegant response to the outdated and inadequate peripheral nerve stimulator, TwitchView is positioned to support practitioners in their fight to eliminate residual paralysis and enhance patients' post-surgical outcomes. The company is headquartered in Seattle, Washington and their products are made in the USA. To learn more, visit www.blinkdc.com
If you would like more information, please call Karl Schmidt at (206) 708-6043, or email [email protected].
Contact Information:
Blink Device Company
Karl Schmidt
206-708-6043
Contact via Email
www.blinkdc.com
Read the full story here: https://www.pr.com/press-release/751865
Press Release Distributed by PR.com