"Brownout – 666 or the Real Meaning of the Swastika" Novel States That "Coming Disaster is Almost a Matter of Logic" and Ponders the Question, "Where is Humanity Headed?"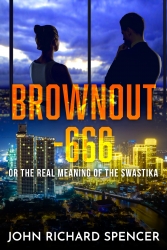 Helensvale, Australia, May 21, 2018 –(PR.com)– Synopsis of the novel, "Brownout – 666 or the Real Meaning of the Swastika": Falsely accused of a sexual crime in the Philippines Rick Daly loses the love of his life, Marilyn, as well as his business. A clash of cultures as well as his own naïveté sees his life spiraling out of control. A prison escape amounts merely to a change of jails. In a world where political correctness has gone mad, reverse socialism forces many honest individuals to the wall and a cynical disregard for values other than the dollar is decaying society from within, Rick almost loses his soul. Crime follows punishment and it is his success at drug and arms dealing that causes Rick to finally face his demons.
Set in the Philippines, USA and Australia "Brownout – 666 or the real meaning of the swastika" is a racy, difficult-to-put-down, account of a young man's discovery journey of both life and of himself. Rick Daly's adventures range from the sexual to the cultural and crash headlong into the political and legal worlds. This fast paced tale can be appreciated on several levels. As well as entertaining it is thought provoking and causes the reader to reflect on the primrose path that humanity is apparently pursuing at exponential speed.
Current news events from all over the world would come as no surprise to the novel's protagonist.
"Brownout – 666 or the real meaning of the swastika" is published by Amazon and is available as a printed volume or eBook.
Published (2nd edition) 09 February 2018 All rights reserved
John Spencer is a freelance writer and blogger, and has written for David Koch publications in Australia, along with Penthouse and People magazines.
Free review copies (either in electronic or hard copy form) are available on request. Copies of this novel can be purchased from www.creativityandpower.com/book store and also through Amazon as well as a number of other eBook retailers such as Barnes and Noble and Apple iBook.
Contact Information
John Spencer's direct email is [email protected] and phone number is +61 423016905.
Facebook: facebook.com/john.r.spencer
Twitter: @badjohn
Contact Information:
Energy Tours
John Spencer
+61 423 016 905
Contact via Email
www.creativityandpower.com
[email protected]
Read the full story here: https://www.pr.com/press-release/753800
Press Release Distributed by PR.com