The All-New Zero Emissions Blue Bird All American School Bus Heads to Northern California as A-Z Bus Sales Wraps Up Their Ride and Drive Event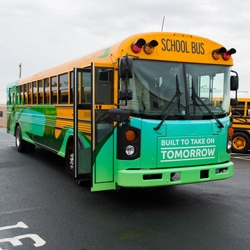 Colton, CA, January 13, 2018 –(PR.com)– A-Z Bus Sales, Inc., a leading provider of transportation solutions, wrapped up the first week of their two-week Ride and Drive Event in Southern California. The all-new electric All American zero emissions school bus built by Blue Bird and powered by Adomani/EDI now heads to Northern California after a stop at Central Unified School District in Fresno on Friday, January 12, 2018.
School District officials, community members, and other interested parties can take a tour and ride in the alternative fueled school bus that is making headlines all across California. The California Air Resources Board (CARB) approved the Blue Bird school bus for the Hybrid and Zero-Emission Truck and Bus Voucher Incentive Program (HVIP) providing California School Districts with funding opportunities for the all-electric school bus.
"The events in Southern and Central California were met with great enthusiasm this past week," said Brandon Bluhm, Director of New School Bus Sales at A-Z Bus Sales in Colton and Sacramento, California. "We're expecting an even larger turnout in Northern California where there is a great deal of interest in green technology and alternative fueled vehicles."
Northern California's Electric Bus Ride and Drive Event takes place on Tuesday, January 16 at Twin Rivers Unified School District in Sacramento and Wednesday, January 17 at Fremont Unified School District in Fremont. Interested persons looking to attend are strongly encouraged to RSVP via the A-Z Bus Sales website. A presentation and Q&A session regarding the electric school bus, infrastructure and funding are scheduled to take place. Refreshments and a light lunch are also planned at each event.
About A-Z Bus Sales, Inc.
A-Z Bus Sales, Inc. is a transportation dealer-distributor serving the education, government, public sector, commercial and private fleet markets with a broad portfolio of passenger transportation solutions. The employee-owned company specializes in green alternative fuel products. A-Z provides sales, service, parts, and financing for both new and pre-owned buses. Founded in 1976, A-Z Bus Sales has built a reputation for long-lasting customer relationships, professionalism and integrity, and the share positions in markets served. Headquartered in Colton, California the company has multiple sales and service locations serving California, Arizona, Nevada, and Hawaii. More information is available at www.a-zbus.com or by calling 800.437.5522.
Contact Information:
A-Z Bus Sales
Allen Stafford
951-781-1800
Contact via Email
www.a-zbus.com
Read the full story here: https://www.pr.com/press-release/741280
Press Release Distributed by PR.com