Clinical Trial Published in the International Journal of Oral Maxillofacial Implants Demonstrates Less Pain and Higher Quality Bone with Snoasis Medical's BioXclude®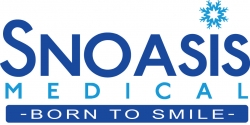 Golden, CO, April 19, 2018 –(PR.com)– The paper entitled "A Randomized Split-Mouth Clinical Trial on Effectiveness of Amnion-Chorion Membranes in Alveolar Ridge Preservation: A Clinical, Radiologic, and Morphometric Study," was authored by Muyeenul Hassan, BDS, DDS, MSD; Sivaraman Prakasam, BDS, MSD, PhD; Carol Bain, DVM, HTL; Ahmed Ghoneima, BDS, MS, PhD; and Sean Shih-Yao Liu, DDS, MS, PhD. The electronic publication of the article from the International Journal of Oral Maxillofacial Implants can be found at Quintessence Publishing.
Dental implant surgery is now the standard of care for the estimated 40% of Americans who have at least one failing-or-lost tooth, and this number is only expected to increase. The forces driving demand for innovative products are decrease patient pain, decrease the number of office visits, shorten treatment timelines, and or increase predictability.
The randomized controlled intra-patient clinical trial involved 11 patients (22 sites), and compared de-epithelized amnion-chorion allograft membrane (BioXclude®) to dense polytetra-fluoroethylene membrane (Cytoplast®) over bi-lateral extraction sockets filled with a 70/30 blend of mineralized and demineralized allograft bone (Maxxeus®). Sites were intentionally left exposed to the oral environment, and dental implants were placed at 12-14 weeks. The statistically significant clinical trial outcomes of note were:
BioXclude covered sites demonstrated:
· Decreased Post-op Pain
· Higher Bone Volume Density
· More Osteoid Formation
"Our randomized clinical trial highlights the benefits of a naturally sourced placental biological barrier for oral regenerative procedures," says Dr. Prakasam, one of the study's investigators. Robert Tofe, President and Founder of Snoasis Medical stated, "Decreased post-operative pain means happier patients, higher bone volume allows clinicians to place subsequent dental implants in a shorter period of time, and more osteoid formation means clinicians are placing their dental implants into better bone." He added, "These results add to the growing body of evidence in support of our position that adoption of BioXclude represents a simple and inexpensive, yet highly effective means to improve practice productivity and patient satisfaction."
Cytoplast® is federally listed trademark of Osteogenics Biomedical, Inc. Use of the mark in this press does not imply any affiliation with or endorsement by the trademark holder.
About Snoasis Medical
Snoasis Medical (Golden, CO) has pioneered the development and use of placental tissue products for tissue repair and regeneration in dental-oral maxillofacial surgery. Robert Tofe, Snoasis Medical's President and Founder, began researching the concept of placental tissue in 2006 and founded the Company the following year. In 2008, Snoasis Medical partnered with a placental tissue processor currently known as MiMedx Group (Marietta, GA). Today, MiMedx is the premier global manufacturer of placental tissue products and is listed on the NASDAQ stock exchange (MDGX). Snoasis Medical owns the world-wide distribution rights to current and future MiMedx placental tissue products and the exclusive license for the intellectual property in the dental-oral maxillofacial fields of use. In 2014, Snoasis Medical expanded its regenerative products portfolio when it started marketing Maxxeus®, an extensive line of allograft bone products, processed by Community Tissue Services (Dayton, OH). Today, Snoasis Medical aims to become the number one dental-oral maxillofacial regenerative products company in the United States and to share the benefits of its placental tissue products with the rest of the world. Snoasis Medical's lead product, BioXclude deepithelialized amnion-chorion allograft, processed using Purion®, delivers multiple extra-cellular matrix proteins, growth factors, and cytokines to provide a barrier membrane that enhances healing. Snoasis Medical has distributed over 125,000 grafts since launching BioXclude in 2010. The FDA allows this minimally manipulated tissue to be used as a barrier, conduit, connector, or cushion in a variety of dental, endodontic, oral maxillofacial, and periodontal regenerative procedures. To learn more about BioXclude, click here to review A Primer on Amnion-Chorion Allografts published in 2017 in The Journal of Advanced Clinical Dentistry.
Contact Information:
Snoasis Medical
Eric Frank
303-242-8075
Contact via Email
www.SnoasisMedical.com
Read the full story here: https://www.pr.com/press-release/750974
Press Release Distributed by PR.com