Joan Inglis, Interior Designer and Charlotte Home Staging Expert, Named to List of 50 Most Influential Women by The Mecklenburg Times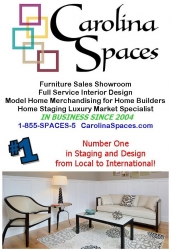 Charlotte, NC, May 28, 2018 –(PR.com)– The Mecklenburg Times named Joan Inglis, owner and lead designer of Carolina Spaces, LLC, an interior design, model home merchandising and home staging firm based near Charlotte, NC, to its 2018 class of "50 Most Influential Women." Inglis was honored May 18th at a special event at the Hilton Charlotte Center City.
The 50 Most Influential Women event was created by The Mecklenburg Times to spotlight and recognize the important role women play in the greater Charlotte region, in the economy and in society. The honorees represent the most influential women in business, government, law, education and not-for-profit fields. Nominees are selected by a panel of independent business leaders based on each nominee's professional accomplishment and community involvement within the Charlotte area.
"It is such an honor to be recognized by The Mecklenburg Times for not only my accomplishments within the interior design business field, but also my volunteer service within the Charlotte community," Inglis said.
Inglis is founder and executive director of Charity Event Resources, a non profit providing fundraising and marketing assistance to other local non profits.
Inglis is a member of the National Association of Home Builders' Design and Education Committees, and is President of the International Board of Directors of the International Association of Home Staging Professionals®. She is an NC/SC licensed Realtor® with CD Realty.
Her design, model home merchandising, and staging work has been recognized from the local to international level. Carolina Spaces, founded in 2004, has furnished over a billion dollars in real estate that sold quickly, and frequently sold for over list price.
About Carolina Spaces:
Carolina Spaces provides award-winning interior design, model home merchandising, and home staging services throughout the Carolinas. Their model home merchandising and design services are available to home builders nationwide.
Carolina Spaces' Owner and Lead Designer, Joan Inglis, is frequently featured at home building conferences conducting educational design seminars including NAHB International Builders Show, Southeast Building Conference, NCHBA 21st Century Building Expo and Conference, and HBASC Convention and Expo.
For professional assistance call toll free 1-855-SPACES-5 or visit www.CarolinaSpaces.com.
Contact Information:
Carolina Spaces, LLC
Joan Inglis, Accredited Staging Professional Master®
803-628-8053
Contact via Email
www.carolinaspaces.com
1-855-SPACES-5
Read the full story here: https://www.pr.com/press-release/754978
Press Release Distributed by PR.com